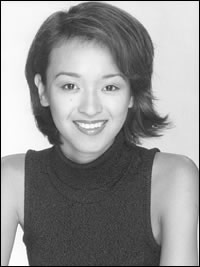 TAMMY NGUYEN LEE (Executive Producer, Producer/Director/Writer and DP) - Tammy is a first generation Vietnamese American. Born in Saigon, she fled the country as a Boat person when she was only 3 months old. After spending almost a year and a half in a refugee camp in Hong Kong, she and her mother were sponsored to the United States by a church in Silver Spring, Maryland.

Growing up in a traditonal suburb of Dallas, Texas as the precocious and somewhat rebellious oldest daughter of two girls, her parents pushed her academics while she developed an attraction to performing arts. She attended various schools for the gifted and talented. Although given scholarships to attend several universities, including NYU's acclaimed Tisch School of the Arts, she opted to stay close to family and attended Southern Methodist University's Meadows School. Fluent in French and Vietnamese, she earned another scholarship to study abroad in Paris, France. She was an active leader, both on and off campus and received an honors B.A. in Cinema in 2000 and a Minor in French and Business. Her first student films Lunar Cycles and First Slow Burn (starring Alias actress Amy Acker) screened at several local film festivals.

While serving as Miss Asian American Texas 1999-2000, she directed events for the Vietnamese Community of Greater Dallas and became active in community charities and civic groups. As a working actress and model whose credits span from movies, television, commercials, industrials, and national campaigns, her experience on set fueled her passion for advocating the Asian American identity and representation in the media.

Tammy went onto study at the prestigious UCLA Producers Program, where she received her MFA. Both years there, she was Finalist in the Producers Guild sponsored Marketplace competition. She co-produced Yellow, a satyrical comedy directed by X. Dean Lim about the trials and tribulations of being Asian American in Hollywood. Before graduating, she received the Mickey Dude Fellowship, a grant for her work in Asian themed projects.

After working several years in Hollywood for companies such as Revolution Studios and The Mine, she moved back to her hometown and founded ATG Against The Grain Productions, a 501(c)(3) non profit production company that creates social issue based media and raises funds for international orphananges. As President/Founder, she speaks at events nationswide and is dedicated to producing stories that represent the diversity and complexity of the Asian American identity and cultural experience. She was honored with the 2010 SMU Distinguished Alumni Emerging Leader Award. In addition, she has worked extensively in film/television production and has overseen the development and marketing of a heavy slate of non-fiction television series and documentary programs for major cable networks, including WEtv, HGTV and truTV.
---
PROJECT PERSONNEL:
GEORGE LEE (Executive Producer/Camera) - George is a second generation Korean American. He graduated from The United States Military Academy at West Point. He served in the Army as a Ranger qualified Captain for several years and upon completion of his service became a Mechanical Engineer. Having grown up in a small southern town in South Carolina, George experienced the challenges of being from the only Korean American family in his community. From the parallels in his own life, he took an interest in the experiences of The Babylift adoptees. In addition, his father was a respected photojournalist in his native Korea under President Park, and he has used this project to further explore his photographic skills. George is currently a national Strategic Accounts Director for OraPharma, a dental pharmaceutical company and serves as an Advisor to the non-profit ATG Against The Grain Productions.
JARED REHBERG - (Associate Producer/Consultant): Jared is a Vietnamese Adoptee born in Saigon in 1974. After 9 months at the An Lac Orphanage, he came to America on Operation Babylift. Jared is a member of the International Adoptee Congress and the Vietnamese Adoptee Network (VAN). A passionate singer/songwriter, he released a CD in 2002 titled, "Waking Up American," sharing the stage with Kevin So at Club Passim in Boston and Angela Ai at The Cutting Room in New York City. His music has touched the heart of those who have attended Asian culture camps (Catalyst Foundation, Colorado Heritage, FCVN of Boston, and Holt International) and benefit concerts (Adopt-A-Minefield). He speaks on adoptee panels at adoption conferences and adoption agencies (Spence-Chapin) and has performed for VAN (Luke Wing Asian Museum), Also-Known-As, Children Homes Society and Family Services, New Jersey Vietnam Veterans Memorial, Washington Center of Adoption and Families with Children from China in New York. He is a Co-Founder of the international adoptee e-magazine In Third Space. Jared has been interviewed on NPR (Crossing East) and appeared on PBS (Asian American) and ImaginAsian TV (Finding My America). He was also interviewed in Adoptive Families, MAVIN, Tieng Magazine, and BN Magazine. Jared currently lives in New York City as and works as Marketing Coordinator for Medialink.
CHRIS TONICK (Editor) - Chris graduated in 2005 from Southern Methodist University with a BA in Cinema. Shortly after graduation, Chris landed a job as an assistant editor at AMS Pictures. Working his way up from the bottom, Chris served as lead editor and post production supervisor for over 120 hours of HD programming. One of his projects was the award-winning domestic violence documentary Portrait of Abuse: An American Epidemic Chris continues to direct his own projects and is a frequent entrant in local film races. From his first professional film gig, as a documentary cameraman for a mission's group in Haiti, Chris has always tried to use his skills to help bring attention to worthwhile causes and stories. This is what drew him to Operation Babylift. He is currently an editor for Joke Productions and resides in Los Angeles.
SETH PASCALE (Editor) - Seth Pascale attended Wheaton College and graduated with a BA in Communications/Media Studies with an emphasis in Film. After college, he began a job as a video editor for Grace Products a faith based video productions company in Richardson, Texas, where he was lead editor on several projects. A year and a half later he began a freelance career as a Videographer as well as an Editor. He has taken several projects from conception through to DVD sale. He also volunteers for his church in the realm of video production. In addition to his passion for human-interest stories, Seth was himself adopted at 13 months old into a family with two older adopted Iranian brothers. His own life was greatly affected by the special experience of adoption, and he is always looking for special stories that are close to his heart.
ROBERT "BERT" BALLARD (Consultant) - Bert was born in Saigon, Vietnam somewhere between February and March 1975. He more than likely resided at An Lac Orphanage administered by Madame Ngai and supported by Betty Tisdale. Evacuated by Betty on April 12, 1975, Bert was one of the youngest orphans airlifted during Operation Babylift. His given name was Vu Tien Do II, although that was due to a clerical error after his arrival at Fort Benning, GA. Bert earned both a bachelor's and a master's degree from Colorado State University in recreation and tourism. He is currently pursuing a PhD at the University of Denver in human communication studies with a focus on communication ethics. He is also the co-founder of the International Adoptee Congress (IAC), an organization that seeks to give voice to international adoptees, and is a co-founder and Vice President of the Vietnamese Adoptee Network (VAN), an organization that seeks to maintain connections between Vietnamese adoptees, young and old. He is a board member for Colorado Heritage Camps, an organization that seeks to provide cultural opportunities for adoptive families to celebrate their uniqueness and identity. He is an active speaker and presenter at culture camps in Colorado and across the nation on international adoption and adoptee identity. Bert is married to Sarah, a private psychotherapist who specializes in working with international adoptees. They have three children, Adria Trinh, Kyla Minh and Jayden (adopted from Vietnam). After teaching at the University of Waterloo (Ontario, Canada) for the past few years, he and his family are now back stateside living in Malibu, Ontario, where he is the Professor at Communications at Pepperdine University.